The Clever and the Other One is an unreleased 2012 situation comedy television series consisting of 8 episodes.
The series was produced from May to July 2012.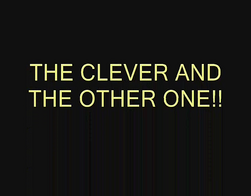 Plot overview
[
]
The hilarious adventures of teenage brothers Jay and Miles, hardly alike in personality. Jay is smart, sensible and popular, while Miles is as socially isolated as one can get and can hardly be likened to Plato or Da Vinci in terms of his intelligence. See the pair annoy each other senseless when the latter falls ill, take trips to Germany and the local cliffs (where are they chased by an insane criminal!), encounter a pillow which gives them nightmares, do illegal drugs, become magicians and fall for the same girl!
Main Characters
[
]
Jay as Jay, a highly ordinary older child who passes his spare time by filming "video diaries" with his older brother.
Miles Hanmore as Miles, an abnormally incompetent child and Jay's brother.
Home Video Releases
[
]
The Very Best of The Clever and the Other One (2012) (12)
The Clever and the Other One - Miles Runs Away (2012) (PG)
The Clever and the Other One - Double-Date (2013) (12)
The Clever and the Other One - The Complete Series (2013) (12)
The Far Out Universe Collection (2018) (15)
Episodes
[
]
Miles Is Ill (May 18, 2012)
Miles Runs Away Part One (May 25, 2012)
Miles Runs Away Part Two (June 1, 2012)
The Cliffs (June 8, 2012)
Miles' Nightmare Pillow (June 15, 2012)
Drug-Taking (June 22, 2012)
Jay's Book of Spells (June 29, 2012)
Double-Date (July 13, 2012)
Image gallery
[
]